General info
Data manipulation
Family tree
Reports
Files manipulations
Licensing
Extra
Interface and data languages
The current Agelong Tree version is translated into the following languages:
Arabic

Belarusian

Bulgarian

Catalan

Czech

English

French

German

Greek

Hungarian

Italian

Latvian

Lithuanian

Persian

Polish

Romanian

Russian

Spanish

Tajik

Tatar

Turkish

Turkmen

Ukrainian
To change interface and data languages, go to All actions menu – Interface and data languages: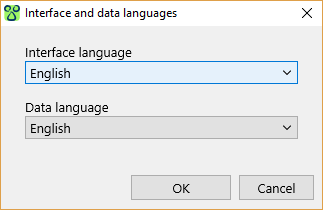 If a RTL (right to left writing, e.g. Arabic or Hebrew) data language is chosen, all text in the main tables is aligned to the right and children are placed in the tree according to their age from right to left. In the next versions we are going to add ability to enter data in different languages, and to choose a language for displaying data.
---
Page Tools
---